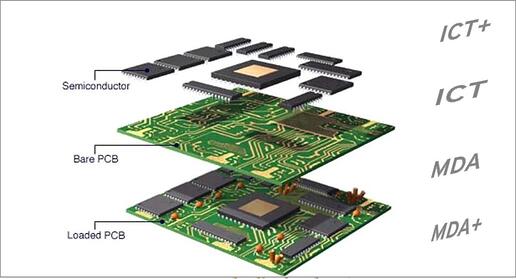 Manufacturing Defect Analyzers (MDA) and In-Circuit Testers (ICT) are two popular electrical testing technologies for PCB manufacturers. Both use a bed-of-nails type fixtures that facilitate connections between the nets of the PCB and the test system instrumentation. While similar in design, they differ greatly in terms of costs, capabilities, and test coverage.
Read more to learn the how MDA and ICT class testers can differ in capabilities and the factors you should evaluate before deciding which solution is best for your manufacturing test environment.
Test Accuracy & Test Reliability
Switching Matrix - Relays are the heart of an MDA or ICT test system. A tester's switching matrix can contain thousands of relays which can be switched thousands of times a day. ICT systems generally use the highest rated, highest performance switching relays. MDA class test systems typically use lower cost CMOS relays or lower performance Reed relays that compromise the mreasurement systems capabilities and accuracy.
Analog Test Accuracy - The accuracy specifications of ICT class analog test instruments are typically 5 to 20 times better than MDA class test instruments.
User Power Supply Accuracy - Because in-circuit testers are designed for performing a wide variety of analog, digital, mixed signal and functional tests, they have the capacity to be configured with a large number of high accuracy user power supplies. Historically, MDA testers have been primarily limited to performing un-powered analog tests and the capabilities of the user power supplies on these systems is limited to ICT systems.
Digital Test Accuracy - Many MDA test systems are designed for analog testing only and do not support digital vector testing. Those that do support digital testing provide simple digital I/O drivers and comparators that are not capable of performing complex digital tests.
Test Fault Coverage
Open Pin Testing - MDA test systems typically use an unpowered vectorless test technique for detecting open pins on digital components and connector devices. MDA systems have limited digital test capabilities and are generally unable to detect open device pins using powered up digital test vectors.

Native Boundary Scan Testing - Most PCBs today are populated with boundary scan components. ICT test systems can use their digital test capabilities to access the testability circuitry that is built into these boundary scan components.
Advanced Analog Testing - ICT testers can often perform advanced analog testing in addition to the astandard analog resistor, capacitor, inductor, diode and transister component testing that can be compared by both MDA and ICT systems.
Advanced Digital Testing - High performance ICT systems have advanced digital test subsystems designed to support testing of complex digital circuitry.

Mixed Signal Testing

- Testing mixed signal devices involves activating both the analog and digital resources of a test system at the same time. Often these test activities have to be tightly synchronized to ensure the circuit is operating properly.
Focused Functional Testing - Most manufacturers perform some kind of ofunctional test activities on their products prior to shipping. The tests are usually performed during a separate, post-ICT, functional test stage using commercial off the shelf test instrumenttation and proprietary test procedures.
PLD Programming - Many manufacturers use their MDA and ICT test systems to load application firmware into the Programmable Logic Devices (PLDs) on their boards. This often saves costs because the manufacturer does not have to buy pre-programmed parts or add a separate programming stage to their manufacturing line.
Test Fault Coverage
Concurrent Test Capabilities

- In an effort to reduce test throughput many techniques have been considered by test manufacturers to lower test times. One way is to perform tests on more than one device at a time. This is difficult for analog component testing because it requires duplicated analog instrumentation in the tester and it can result in test interference if not done properly.

Contact Test Algorithm

- Both MDA and ICT class systems offer a contact test to verify that fixture probes are making good contact with the board prior to commencing test activities. It is important to identify any faulty probes to avoid false failure diagnostic messages and unnecessary repair actions.

Shorts Test Algorithm - It can be time consuming to accurately isolate and identify shorted net defects. Algorithms hae been designed to test system manufacturers to do this effectively - some are more efficient than others.
Digital Device Open Pin Testing - Analog vectorless opens techniques typically take 2 ms per pin to test. The amount of time required to execute a digital test depends on the number of vectors and the vector rate.

Dedicated Controller

- In order to synchronize the analog and digital subsystems and provide precise and repeatable timing control for the digital pins, ICT class systems typically employ a specially designed high speed controller. The high speed controller is the interface between the tester PC and the tester instrumentation and its purpose is to efficiently control the test execution and timing.

Deep Serial Memory

- When attempting to execute tests that require large amounts of vector data (like Flash programming), it can be time consuming to load and re-load the tester pin memory with large amounts of vector data.

Automation Support

- Many high volume manufacturers operate automated assembly lines and look for MDA and ICT test systems that can be easily integrated into their production environment.
---

Which solution is right for me?
Test accuracy, fault coverage and test throughput capabilities should be evaluated along with the acquisition price to understand the total cost of ownership for each test solution and determine which one is right for you.
Download the full Teradyne White Paper "A Comparison of MDA & ICT Technologies" to learn the details of each evaluation criteria to make the best decision for your production line.